Nothing is more inviting than mood-enhancing entertainment lighting. If you're considering outdoor night lighting for summer entertaining, be willing to make a commitment. "As with most things related to homeownership, landscape lighting systems require ongoing maintenance and tuneups," says Green Industry magazine.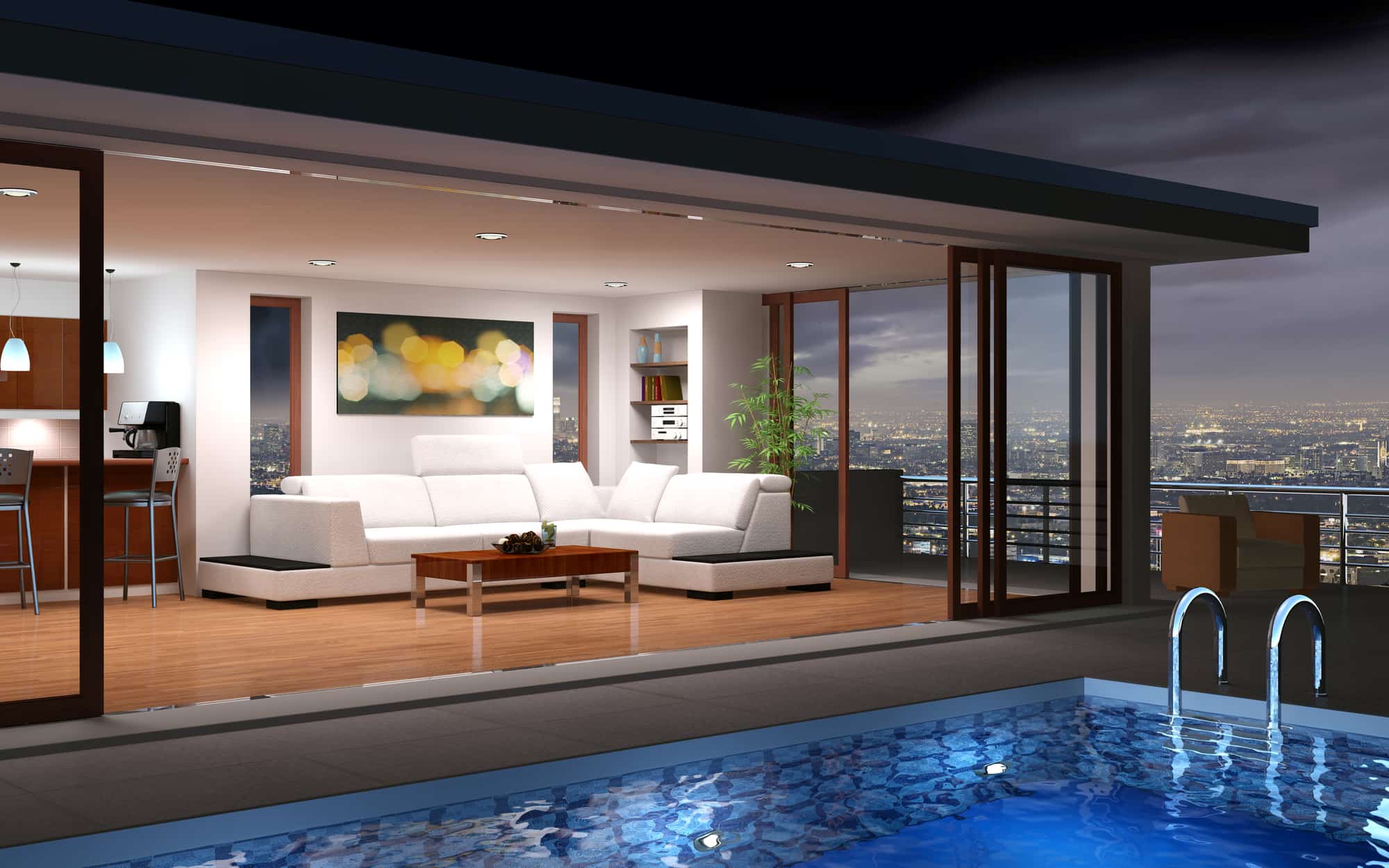 Indoor lighting is best served by – you guessed it – natural sunshine. And lights definitely impact your guests' comfort levels. A room with warm, inviting lighting sets the stage for a relaxing evening. You can design lighting to encourage engaging conversation. But a roomful of harsh LED lights? A definite party darkener.
Inside Night Lighting for Entertainment
We're drawn to and fascinated by lights. One of the best indoor night lighting ideas is to present a beautiful yard bathed in wondrous lights. Guests will gravitate to your uncovered windows to admire the scenery.
Another mood-enhancing idea is a dimmer installation in living and dining rooms as well as kitchen areas. You can have the lights dim during the meal and mingling.
You won't have to say, "Party's over! Goodnight!" Just slowly ease the lights up to full brightness.
Indoor lighting ideas include:
Art highlights – A lovely way to exhibit collectibles and family art.
Bathrooms – Auto/on-off lights are convenient (and impressive).
Chandeliers – Nothing speaks to elegance more than a sparkling chandelier.
Entrance lighting – There are some stunning hallway and entrance light fixtures available to today's homeowners.
Recessed lighting – Recessed ceiling lights are subtle and sophisticated.
Wall sconces – Enjoy being surrounded by wall sconces that can be flame-like, ultra-modern, or shabby-chic.
Summer and Fall Outdoor Get-Togethers
Phoenix-area homeowners have a tradition of gracious outdoor entertaining all year-round. But evening summer and fall parties are especially pleasurable.
To begin your lightscaping project, define exactly what you want to achieve. Do you want to illuminate a walkway or garden path? How will your night lighting integrate with furniture and seating arrangements? Do you need lighting for a one-time, large event or permanent fixtures for long-term entertaining, or both?
Once you've determined how your outdoor night lighting will best serve, make a "blueprint" of your yard. It doesn't have to be perfectly scaled. Indicate ground, tree, exterior home, and fixture lighting areas.
Points to consider:
Low-voltage lighting can cost less than high-voltage, depending on the design.
Solar lighting is a good choice for sunny Arizona and it's the least expensive option.
There are safety precautions for outdoor night lighting strands and especially ground fixtures.
Your lighting budget should include the cost of an electrical contractor to install the wiring.
Residential Lighting for Beauty and Safety
Turn It On Electric offers over 20 years' experience in superior electrical service. Turn It On Electric's team of professionals live and work in:
Anthem
Cave Creek
Chandler
Gilbert
Glendale
Mesa
Paradise Valley
Phoenix
Scottsdale
Tempe
We are passionate about home safety and can share several ideas for home lighting that will not only enhance the quality of your life; it will increase your property value. Contact Turn It On Electric today to design a customized night lighting package for your home.