Adding a ceiling fan to your home is a great way to enhance its appearance and save money on your energy costs. To save even more money, you might be tempted to install a ceiling fan yourself. However, this could set you up for trouble in the future. Here's why it is better to leave this task to the professionals.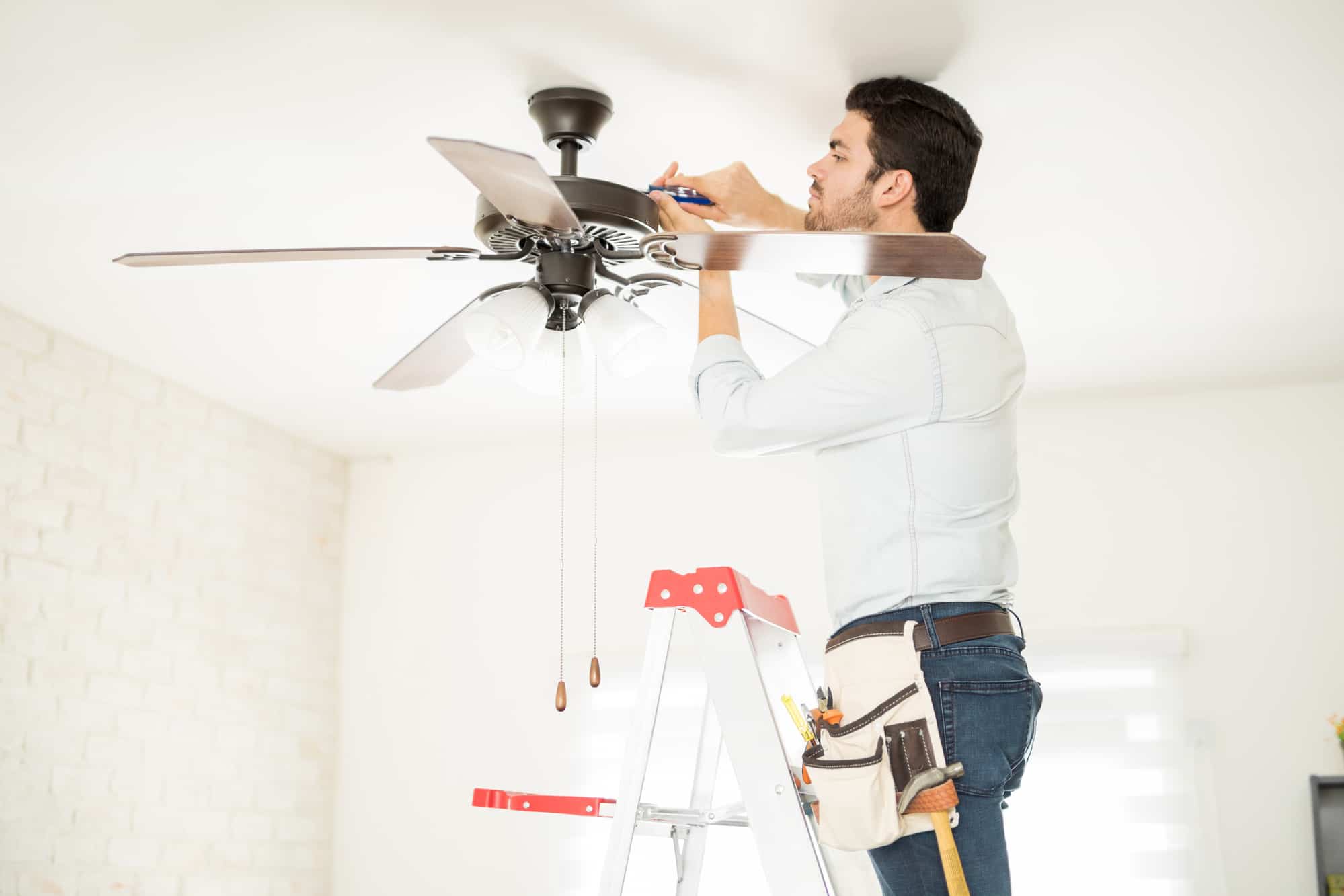 Electrical Work Requires Expertise
Unless your home is already specifically wired for a ceiling fan, you'll need to run new wires to your chosen destination for your fan. This is a specialized task that should only be done by a licensed electrician.
You May Break Building Codes
If you choose to try to run the wires to install a ceiling fan yourself, you could be going against building codes in your area. Not only can electrical work be dangerous to those who are unfamiliar, but ignoring building codes could negate your homeowner's insurance policy. If you run into an emergency, your insurance company may deny your claim, forcing you to foot the bill yourself.
Ceiling Fans and Light Fixtures Have Different Requirements
You may think that it will be easy to install a ceiling fan where you already have a light fixture. However, the electrical plates required for light fixtures are not strong enough to accommodate ceiling fans. You'll need to switch them out before you can install a ceiling fan. Many people skip this crucial step, though, which could increase your risk of electrical problems in the future.
Some Ceiling Fans Have Additional Features
In some cases, your ceiling fan might have more advanced features, like dimmers and smart home integrations. These installations typically require additional hardware in order to be able to use the features. Adding these features may complicate the installation process. Hiring a professional will ensure everything works properly.
Avoid the Risk of Electrocution or Electrical Fire
When you are unfamiliar with electrical tasks, you drastically increase your risk of complications. These can include electrocution and electrical fires, potentially causing injury to you or damage to your home. To save yourself and your home the risk, it is better to let a qualified electrician do the work for you.
Lower Possibility of Mistakes
Even if you are as careful as can be when you install a ceiling fan, there is always the possibility of mistakes. If something goes wrong, you could be in for costly repairs to fix any damage. When you work with a professional, they likely back their services with some form of guarantee. If something isn't quite right, a reputable electrician should remedy the issue for you, without an additional charge.
Added Peace of Mind
Working with a professional electrician will give you the greatest confidence that the ceiling fan installation job has been done correctly. You can take comfort in knowing that your fan will provide air circulation for you for many years to come. If you attempt to do the job yourself, something might go wrong and worrying about this just isn't worth it. Save yourself the headaches, and just let an experienced technician install your ceiling fan.
You Can Count on Turn It On Electric
When you are ready to install a ceiling fan in your Phoenix home, you can trust our expert team. We have installed countless ceiling fans throughout the valley, so we can install a ceiling fan for you in no time. Our technicians always take great care to ensure your safety and the safety of your home throughout the process. We'll install your new ceiling fan and double-check that everything is working as it should.
When you work with us, you can expect expert, professional service and friendly customer service. We invite you to get in touch with us today to make an appointment for us to install your ceiling fan. We'll help you get set up to enjoy that blissful, cool air right away. Call now to get started!