Your swimming pool lighting can be so much more than a white light at the deep end! Phoenix is our country's leader in backyard swimming pools. We are also the flagship for pool lighting creativity! Here are lighting ideas that will enhance the beauty and pleasure of swimming at home.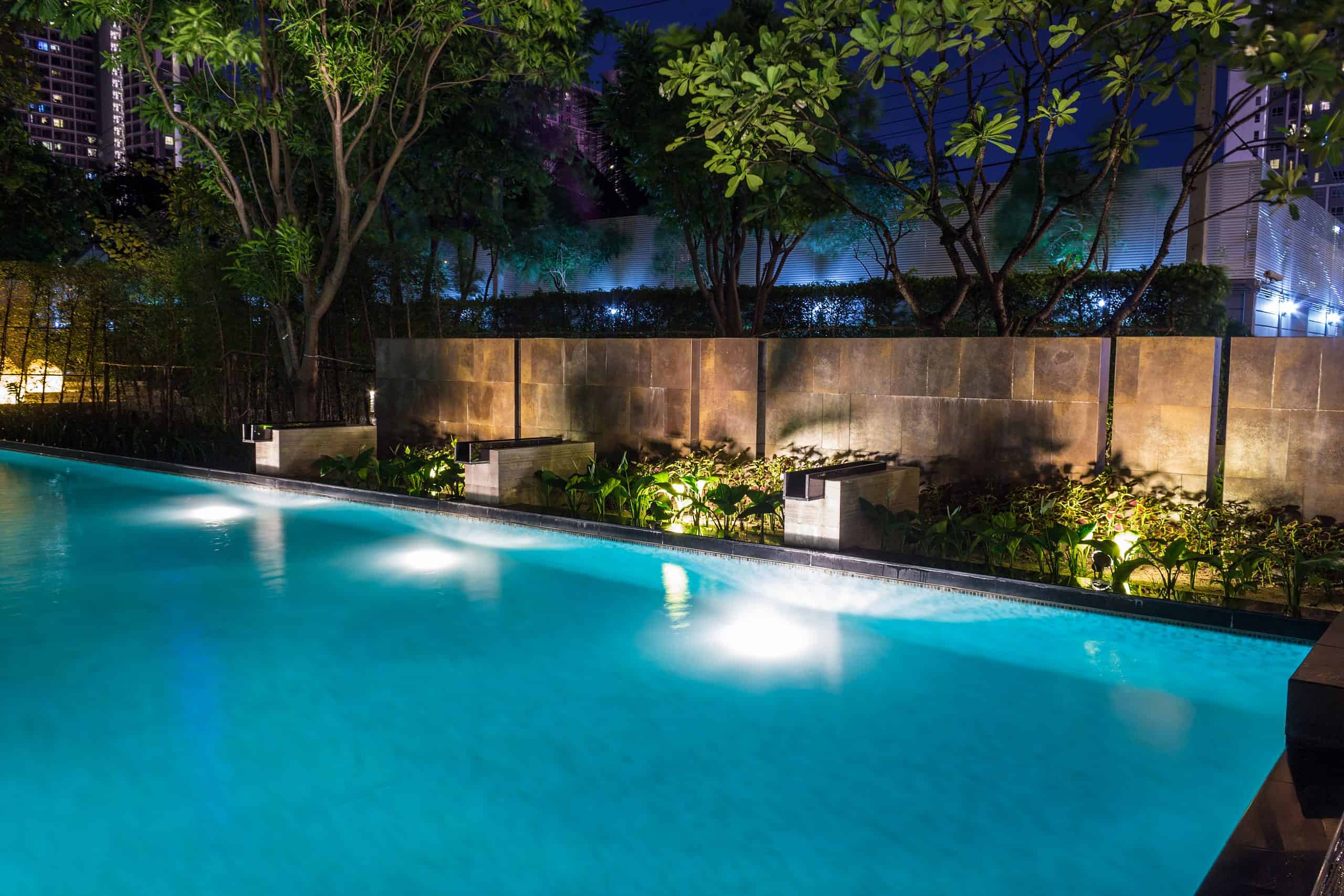 5 Landscaping and Pool Lighting Upgrades
Did you know…?
When it comes to lighting pools and pool areas this year, less is not more. Some pool owners are abandoning the sole underwater light under the diving board for exciting illumination. You can install rows of lights along the sides and/or both ends of the pool, for example.
The types of pool lighting options are:
Fiber optic – Safer because they attached to a "dry" power box, but lighting effects may be lessened
Halogen – For a very large pool, halogens are initially low-cost but need frequent changes and can get hot
LED – Brightly travel long distances underwater for the most energy-efficient lighting option
Solar – Not a permanent pool lighting option, but a nice add-on
Swimming pool lights can be categorized as:
Feature lighting – We install halogen or LEDs to dramatically highlight one area. Your slide, a waterfall, or what about a landscaping arrangement of rocks and plants? Feature lighting "spotlights" focal points and areas of interest.
Floodlighting – We recommend flood lights to illuminate even larger areas of your swimming pool area. LEDs conserve energy, last longer than halogen, and replacement bulbs are easy to find. Halogen flood light bulbs are cheaper but won't last as long as LED.
Flush-mounted lighting – Flush-mounted lights are the most popular option for pool wall lights. These LED or halogen "seamless" lights are a bit more complicated to install but they're worth it. The illumination is amazing.
Pool garden lighting – Garden lights won't illuminate your pool area but emphasize the beauty of nearby nature. They can be subtle or pop with look-at-me! drama.
Surface-mounted lighting – LED or halogen surface-mounted underwater lights are attached to the interior surface of the pool's edge. The downside is, that they break easily because kids tend to climb on them to get out of the pool. That's why we often recommend flush-mounted lighting.
Pool lighting upgrades will increase your property value, but even if you don't plan to sell, the enjoyment factor makes them a great home improvement choice. However, you can add floating LED lights that are battery-powered. These are fun and safe alternatives to a pool lighting investment.
Turn It On Electric: Pool Lighting Electricians in Phoenix
Working with electricity around water is never something any homeowner should attempt. All pool lighting options must be installed by a licensed, trained electrician. A pool lighting project in Phoenix is fun and affordable. Let's explore your options! Contact Turn It On Electric.