As you consider landscape lighting options, you'll love the choices. But you might be puzzled by similarities in various types of landscape lights. For example, flood lighting is one thing. Spotlights are not the same as flood lights. Uplighting is something else entirely. What's the difference?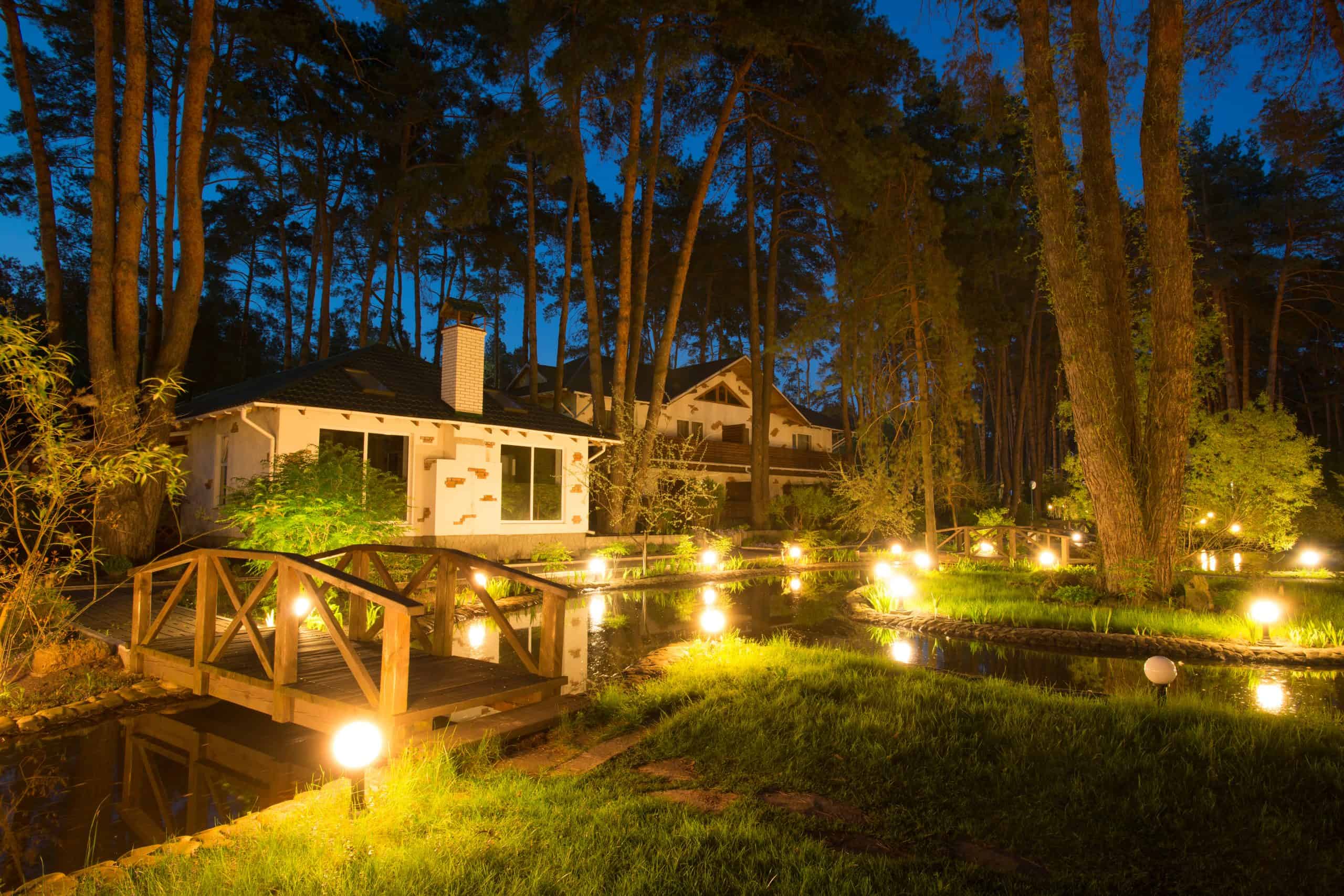 Uplighting, Spotlighting, Floodlighting, and Landscape Lights
Uplighting, Spotlighting, and floodlighting are 3 categories of landscape lights. All three lighting options accomplish different objectives.
Floodlights – These are usually shorter beams. Use floodlights when you want to illuminate a wide area.
Spotlights – These landscape lights can travel longer distances. They're used to highlight sky from the ground in advertising and ground from the sky when searching for people on the run, for example. Spotlight beams are narrower than floodlights.
Uplights – Spotlights and floodlights can be mounted at different levels, but uplights are always mounted on the ground. The beam is shorter and narrow. This concentrated landscape lighting makes it easier to control exactly where and what you want to illuminate.
Ways to Use Uplighting in Phoenix Landscaping
Most property owners know that uplighting will emphasize – highlight – a portion of your home or yard. It's also a security feature. What homeowners don't know is uplighting creates shadows. And shadows add subtle, attractive drama to your landscaping.
In addition to highlighting landscaping or creating dramatic shadows, uplighting can be used for:
Backlighting – This is a way to create a silhouette. As an example, one landscaper says using uplighting to backlight begins with an interesting tree, shrubs, or a fountain. Rather than positioning the uplight in front of you, install it behind the object. "There are endless options for silhouette garden lights," she says.
Wallwashing – This is the effect created when spacing several uplights in a way that emphasizes the texture of exterior walls. This is becoming extremely popular because modern exterior materials are more versatile and exciting. Draw attention to your home's limestone, poured-in-place, or textured concrete outside walls… One Arizona architectural structure has a rammed earth exterior.
Types of Uplighting
For a special event, temporary uplighting can be strategically placed. Yes, it's a bit tricky and yes, the light fixtures have a tendency to fall over if not positioned correctly. You can rent special-event uplights for landscape lighting.
The overall best investment is wired landscape lighting for your home using LED bulbs. LED uplighting is best for outdoors because they burn cooler and last longer. Because they generate less heat, they use less power. If you're planning an event, you can change the colors, too.
Phoenix, Tucson-Area Landscape Lights Installation
Landscape lights are a fun, elegant way to provide additional security and beauty to your outdoor space. Turn It On Electric has specialized in landscape lighting solutions for Arizona for over 10 years. We're here for you now and we'll be here when you need us. To learn more about landscape lighting in The Valley, contact TIO Electric.