As summer quickly approaches, adding a ceiling fan can keep you comfortable. It can lower your monthly HVAC (heating, ventilation, air conditioning) bill. Ceiling fans are feel-good energy-savers!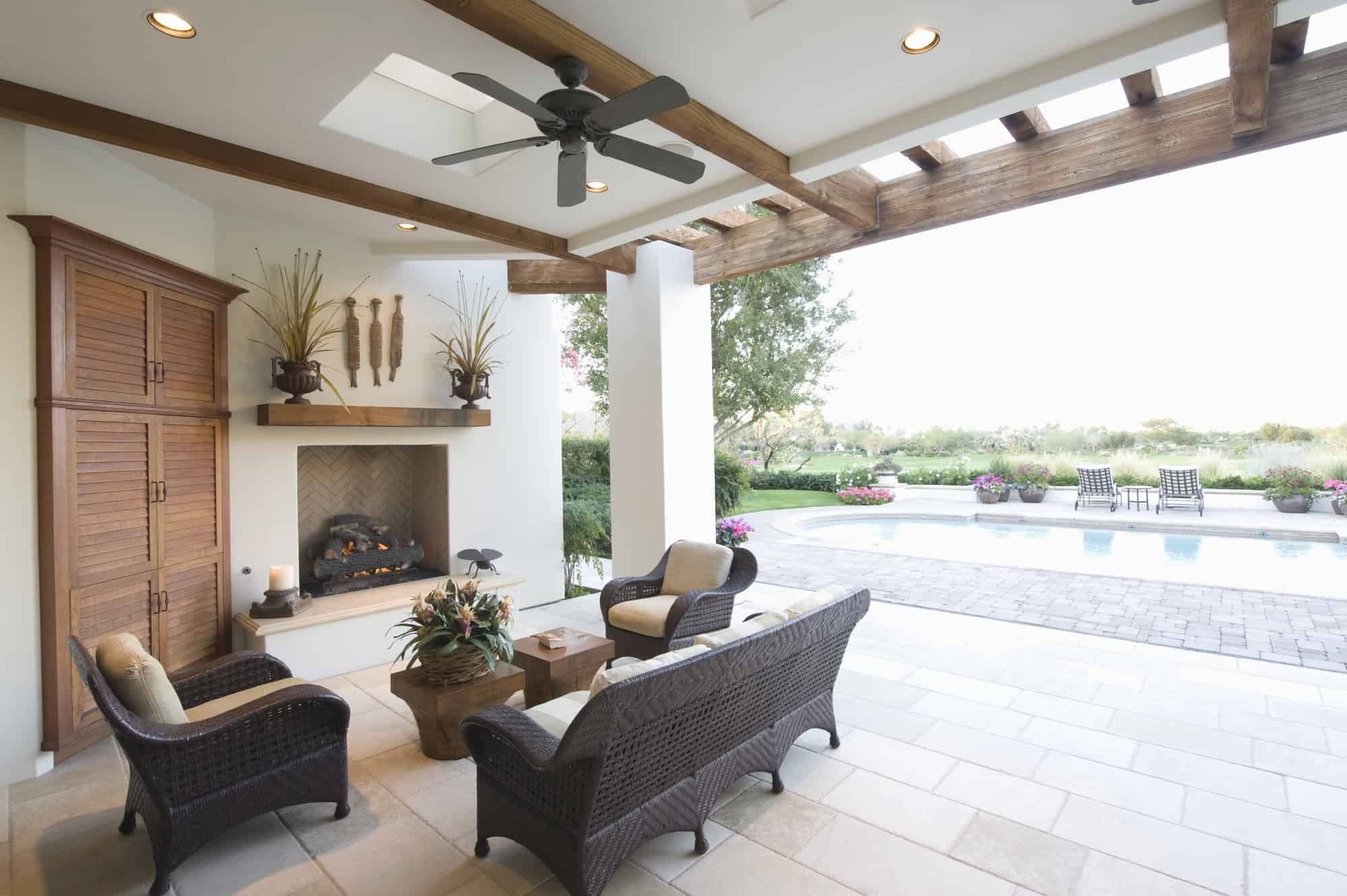 Adding a Ceiling Fan to Your Arizona Home
DIYers (do-it-yourselfers) are the most responsible, knowledgeable homeowners in the USA. They strive to learn about their homes' systems: plumbing, heating and cooling, landscaping, electricity…all the things that keep a house safe and comfortable.
The most important thing savvy homeowners know is when not to DIY. When it comes to taking care of their homes, DIYers understand some upgrades are best left to the professionals. Adding a ceiling fan is one of those times.
Smart Homes, Smart Ceiling Fans
Modern ceiling fans aren't pull-the-cord controlled. Just as you can program your thermostat before you arrive home, you can pre-program or manually input ceiling fan settings. If you have a smart thermostat (Nest, Ecobee, etc.), you can integrate your ceiling fan to your thermostat.
Smart ceiling fans operate with Wi-Fi or Bluetooth and cost anywhere from $300 – $1,000+. Some of the top-rated ceiling fan companies include:
Bond (control hubs)
Haiku
Honeywell
Hunter Fan Company
Minka-Aire
When adding a ceiling fan to a room you can integrate with Alexa, Siri, Google Home, etc. Smart ceiling fans are programmable but they can also sense a room's current temperature and choose the appropriate comfort setting.
Look for:
Energy efficiency – Temperature/humidity sensors
Indoor/outdoor versions
LED lights
Reversible motors
To control your smart ceiling fan, use:
Infrared remote
Occupancy sensor
Smartphone
Temperature/humidity sensor
Timer
Voice
Wall switch
Options for Adding a Ceiling Fan
You have a lot of considerations when you invest in a smart ceiling fan. Here's what Smart Home Scout shares:
If you already have a Z-Wave or Zigbee smart home hub, replacing your ceiling fan wall switch with a Z-wave version to control your fan settings and light is a cost-effective option.
If you want to save energy and gain more control of your environment, a smart ceiling fan is a good choice. The cost compared to a "dumb" fan isn't that much more and can be made up in energy bill savings.
Retrofitting your pull-cord fan is very cost-effective. You won't have temperature sensors, etc. But you will have added control and scheduling options.
Before You Buy, Call TIO Electric
The most common mistake homeowners make when adding a ceiling fan is buying the wrong size. A ceiling fan size is measured in "room sweep." If your ceiling fan is too small, it just won't get the job done. If it's too big, it may feel like a swamp box fan.
But electrical wiring mistakes are the second most common mistake. Working with electricity is dangerous and simply not worth the risk.
Ceiling fans weigh about 50 pounds. If an improperly mounted ceiling fan falls on a small child, senior, or family pet, severe injury or death could result.
If you're replacing a standard light fixture with a combination ceiling fan-light fixture, the electrical box (above the ceiling) will probably need to be replaced.
If your DIY-installed ceiling fan wiring sparks a fire, your insurance company can deny coverage.
There are installation code requirements that vary by state and county.
If you prefer your current ceiling fan but would like to upgrade its operation, we can hardwire an electronic device inside your fan or replace your dedicated wall switch with another version that will connect and control your ceiling fan.
You want safety first for any renovation project. Our licensed electricians are technology-trained professionals. For ceiling fan installation in Maricopa and Pima counties, Turn It On Electric is a smart home choice.
Contact Turn It On Electric today.