When you run a restaurant, it's important to make sure you have the right lighting. A casual, family-friendly restaurant typically needs to offer a cheerful, well-lit environment. An upscale dining establishment needs to create a more intimate mood for couples enjoying a night out. No matter what kind of atmosphere you need, commercial LED lighting can provide it.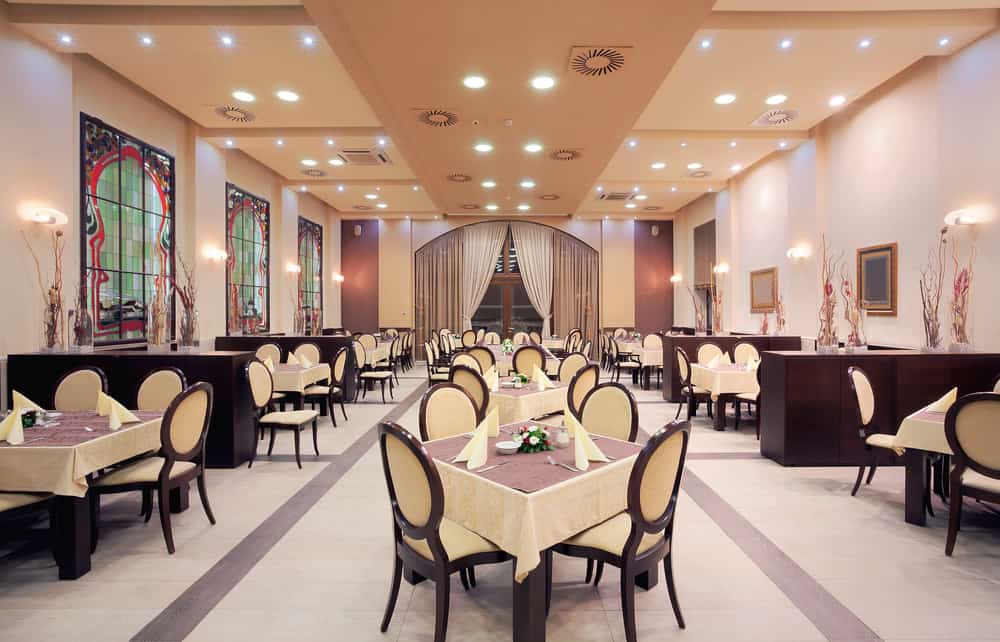 Ambient Lighting
Ambient lighting refers to lights that create a certain mood or atmosphere in your restaurant. You can use commercial LED lighting that is softer to illuminate tables throughout your dining area. Having these lights over tables rather than all over the ceiling provides a more intimate effect for those who are dining. This is a good choice for restaurants that need to create a more romantic effect, such as high-end restaurants that couples frequent.
Commercial LED lighting can be spread out over larger areas overhead, such as when you need to create a more fun or lively atmosphere for your restaurant. This works well for restaurants that have a more casual setting, such as cafes, fast food restaurants, and family restaurants. This lighting provides plenty of illumination for customers and creates a comfortable atmosphere.
Accent Lighting
Does your restaurant have certain features that you would like to call attention to? Whether your high-end restaurant has artwork on the walls or your casual restaurant has eye-catching design features, commercial LED lighting can highlight these. You can place these LED lights in specific areas to draw the eye to these features.
Dimmable Lighting
Some types of commercial LED lighting have dimmable controls. These controls make it easier for you to manage how much light your restaurant has. For example, you can use these controls to make your restaurant brighter earlier in the day if you're serving breakfast and coffee for customers. When dinnertime comes around, use these controls to soften the lighting in your restaurant. For the middle of the day, you can use a more moderate setting for the lunchtime crowd.
Lighting Fixtures
The types of LED lighting fixtures your restaurant has can enhance its appearance. Elegant pendant lighting with LED bulbs is a good option for upscale restaurants. Recessed LED lights that cover most of the ceiling over your dining area are a suitable option when you have a casual dining establishment.
Advantages of Commercial LED Lighting
Commercial LED lighting offers a few benefits for restaurant owners. This type of lighting can cost more upfront. However, these lights cut down on the amount of energy used for lighting restaurants overall. This leads to a decrease in energy bills, which can help you save money on running your business.
LED lights are known for lasting a lot longer compared to fluorescent or incandescent lights. Since they don't need to be changed often, your business saves money on the cost of bulbs as well.
With LED lighting, you don't have to worry about your bulbs flickering, either. This means you can count on having reliable, steady lighting for your customers. Steady lighting helps create a more pleasant dining environment.
If you're ready to install commercial LED lighting in your business, please contact Turn It On Electric to discuss your options or request an estimate.