Your ceiling fan has two chains and invariably, you turn the light off when, in fact, you want to turn the ceiling fan on. Or you tug the chain twice and it generates a whirlwind in the room. A ceiling fan switch solves both problems.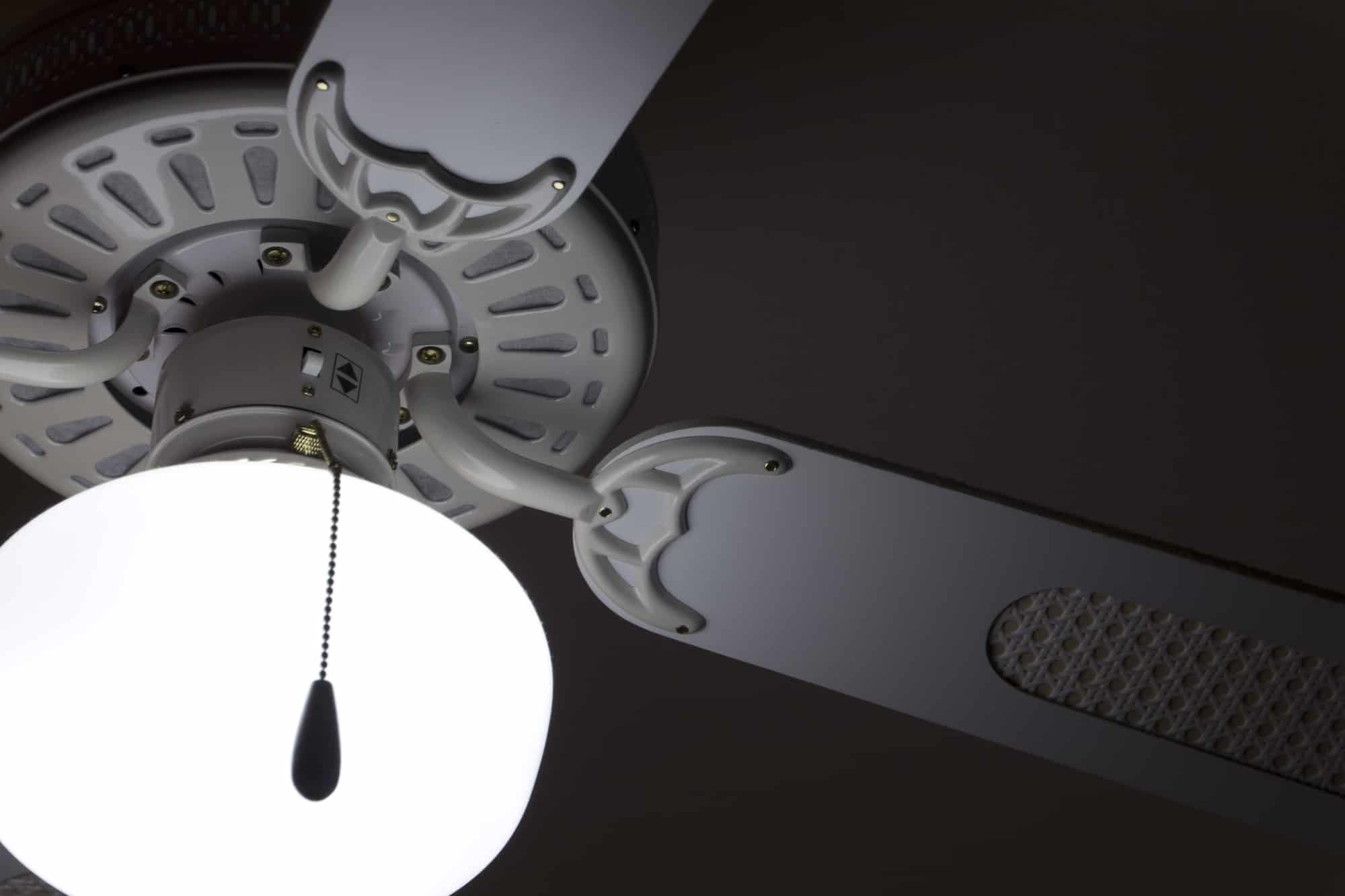 Quit Yanking Your Chain with a Ceiling Fan Switch
We like vaulted ceilings in Arizona. They are charming, have an "old-world" elegance, and if they offer plenty of natural light, can add value to a property. Some people think vaulted ceilings are a waste of space and energy.
If you have a vaulted ceiling, enjoy the natural light and add a ceiling fan because it conserves energy and costs about $12/year to operate. But you'll need a ceiling fan switch. And the wiring may include working with cross-beams and drywall finishing. It's a job for your local professional electrician.
Advantages to Ceiling Fans and Smart Switches
Ceiling fans are energy-savers. When you enter the house on a hot day, it's tempting to adjust the thermostat to cool down. Turn on your ceiling fan first. Ceiling fans don't actually affect room temperature, but they affect how you feel. They also can lower your heating bill if you have a reverse switch.
"To me, having to manually reach up and pull the pull-chain on a ceiling fan is as awful as having to manually lift up your garage door," says Eric Blank. But it isn't practical to toss out your old ceiling fan if it works well.
Blank says his ideal ceiling fan has:
Auto on/off with PIR motion sensors
Voice control
Wall switch – Sometimes you're in a hurry. Nothing beats a ceiling fan switch.
You'll have the best opportunity for customization if you install a separate light switch and ceiling fan switch on the wall. You can have wall-mounted fan-speed control; a "smart" process, but the convenience of manually adjusting fan and light.
Don't DIY. Just Don't.
The thing is when you're wiring a ceiling fan switch, what seems logical – like using a dimmer switch that's already in place – doesn't work. You can't use a dimmer switch for fan speed control.
If you don't know what you're doing, you'll buy one of those WiFi switches that are sold as "fan controllers." They don't have the required circuitry to control a ceiling fan motor. The noise is the best thing that happens as a result; the motor damage is often beyond repair.
Fiddling with electricity is risky. And risking property damages that your insurance company won't cover because of your do-it-yourself ceiling fan switch installation is a problem. Electrocuting the family pet is worse; much worse.
TIO Electric: Smart Electricians for Arizona
It's just smarter to install smart controls throughout your home.
If you'd like to install a ceiling fan, you're not stuck with a saloon-type rustic fixture. Ceiling fan styles are so interior-design savvy that some are room focal points.
If you want to upgrade your ceiling fan fixture, let's discuss the possibilities. Turn It On Electric wants to make any home or office renovation exciting and affordable. Call or contact us today to learn more.