Landscape lighting offers the best of three worlds. Most of us add landscape lighting to enhance appearance. The security that comes with landscape lighting is a huge benefit. When you line sidewalks and paths, it becomes a safety feature. Phoenix landscape lighting 2022 trends include low-voltage options for every residential and commercial property.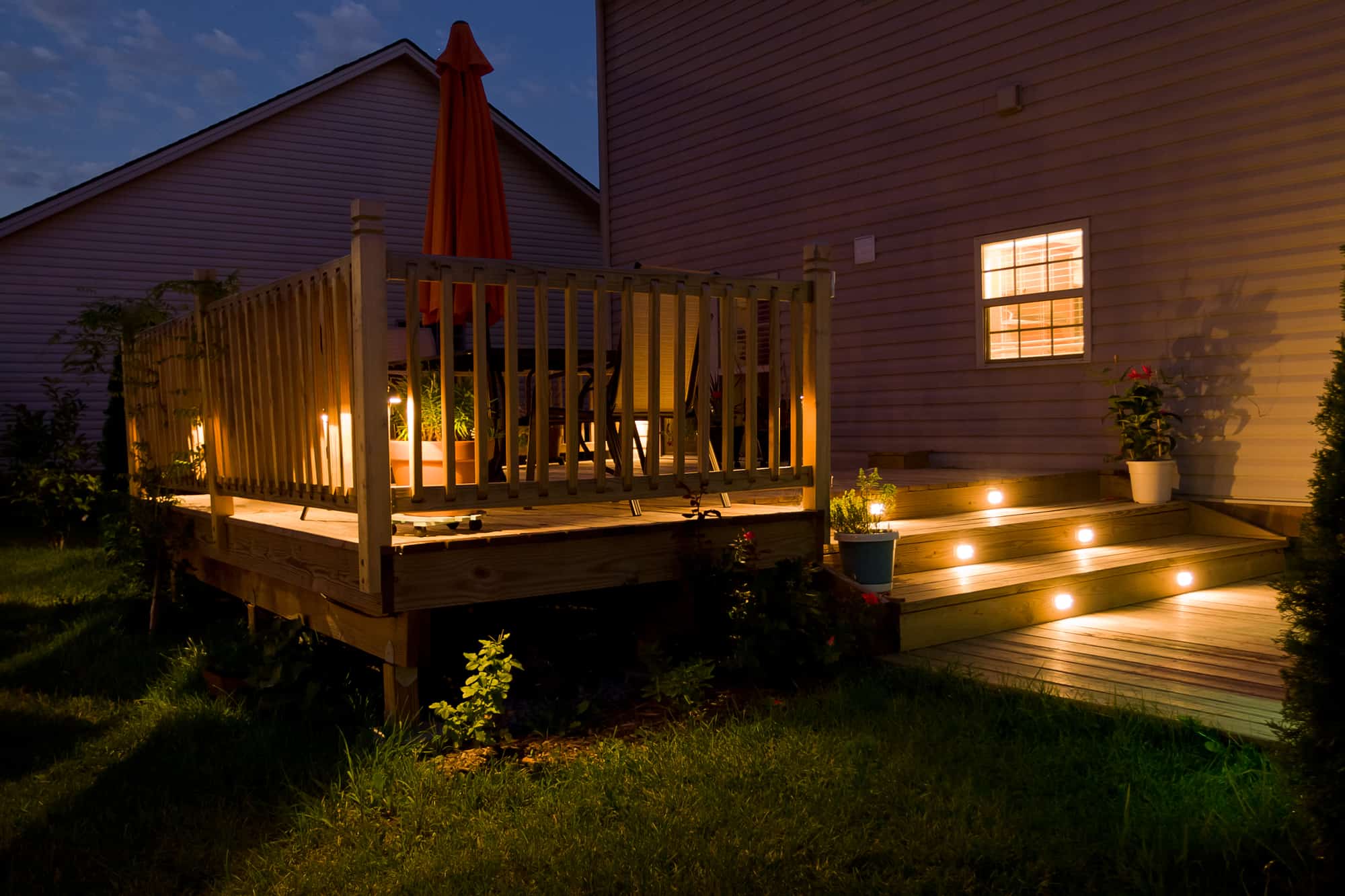 2022 Phoenix Landscape Lighting Trends
Arizona is a "destination" state for so many people. Phoenix has year-round beauty and comfortable weather almost every day. We spend a lot of time outdoors. That's why landscape lighting is a must for most Arizona property owners.
You don't want less-than-safe yard lights. Proper landscape light fixtures will resist moisture without overheating.
This year in particular has been one of rebuilding and renewed hope. What better way to celebrate than by opening our hearts and homes to friends and family? Here are six 2022 Phoenix landscape lighting ideas that will brighten your life in 2022:
1. Deck Lighting
The versatility of deck light fixtures and lighting options is amazing. Choose from:
Deck – Attach these to posts or rails.
Downlights – These are placed overhead, maybe in trees to spotlight an area.
Recessed – You can use these for dramatic floor lights (ceilings too).
Spot/well/uplights – These highlight one feature, like a tree or waterfall.
Step – Step lights are valuable walking aids, and they look terrific. You can use surface mounted or recessed.
2. Energy-Efficient
Low-voltage and long-lasting LED lights can last up to 100,000 hours or longer. As always, the upfront cost may cause you to take a step back. But the investment pays off; you'll get returns in longevity and monthly energy bill savings.
3. Entertainment
Entertainment lights are bolder; brighter than path lighting. Path lights accentuate footfall. Entertainment lighting is placed further away from seating scenarios and aimed to illuminate a larger space.
4. Path Lighting
No one wants to stumble and/or fall. Your need to protect older and younger loved ones never change. And traditional path lighting will never go out of style.
5. Timeless Sustainability
You can choose from designs that won't date your property. Timeless landscape lighting designs are tasteful features. But choose materials that have longer-lasting durability too. Consider brass, copper-free aluminum, and corrosion-resistant metal fixtures.
6. Tree Lights
No need to wait for winter wonderlands in December! If they're wonderful in December, why not have that beauty and excitement all year? Tree lighting can also be adjustable for low-lighting or moonlighting.
Solar vs. Electric Phoenix Landscape Lighting
Solar is another landscape lighting trend. It has several advantages: It's cheaper and low maintenance. Your Phoenix-area electrician appreciates how easily and quickly solar landscape lights can be installed. But…
Solar landscape lights won't last as long. You'll need to replace the lights about every 3 years.
The light color tends to be pinkish. Some people are delighted with that. Some people find it off-putting.
You have no control over brightness and on-off settings. When they're on, they're on. When they're bright or dim, it is what it is.
Your illumination is compromised if you have several cloudy days. In fact, when it's cloudy and dark and you need outdoor lighting most, solar lights may fail.
Hardwired-electrical outdoor lighting is a better investment for your home (and your wallet). A professional electrical landscape light installation will provide the safest possible placement.
Electric landscape lighting lasts about 10 years or more.
They work during bad weather and cloudy days.
You have complete control. Turn off the lights you don't need. Turn on the lighting fixtures for entertainment. Out of town? Turn off the sidewalk lights and put the spotlights on a timer.
The biggest disadvantage to hardwired landscape lighting is if installed incorrectly, they are easily disturbed. That's why we discourage DIY (do-it-yourself) Phoenix landscape lighting. It won't save money if a bad installation fails.
Plan Your Landscape Lighting Project
We have many ideas for outdoor lighting that increase your property value. Let's put together a plan that will do wonders and work with your budget. Contact Turn It On Electric.