Many people opt for downlighting when arranging their yards' outdoor lights. Downlighting is exactly as it seems: The light fixture's placement angles the beam downward. This provides a more natural lighting solution because our "natural" light comes from the sun or the moon.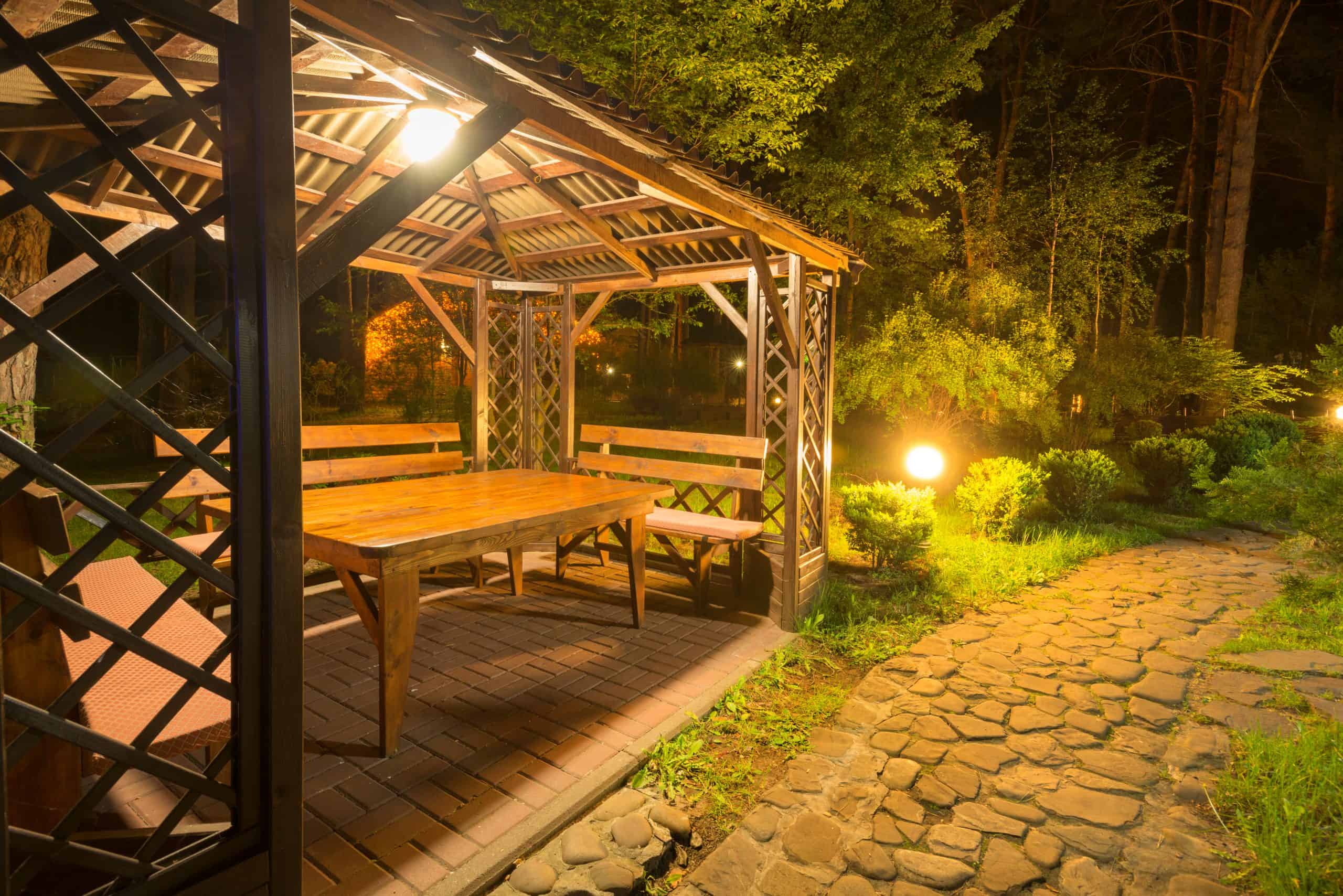 Downlighting doesn't mean the outdoor lights must be placed high above the ground (although you can do exactly that). The most dramatic downlighting is often concealed on the ground, in landscaping or underneath trees.
Ways To Use Outdoor Lights for Downlighting
It would be perfect if we could harness our sun's and moon's natural light to illuminate our yards when and where we want it. Natural light just "feels" better. But downlighting comes a close second.
Downlighting also adds a hint of drama – mystery – to outdoor lights. Your visitors will see a warm glow of light without processing where it comes from. It's great for flowerbeds and seating areas. But it also can be used to illuminate sidewalks, stairs, and steppingstones to increase safety.
Ways to use downlighting include:
Arbors, Gazebos
If you have or want an attractive seating area in your yard, downlighting is the way to go. Gazebos are traditional structures but arbors and pergolas transition well to any type of architecture or layout. These structures are designed to provide minimal protection against harsh sunlight or weather. You should compare downlighting angles for these landscaping features.
Gutters, Soffits
Utilizing your home's roof is another way to illuminate side yards discretely. These 120-volt lights are not something you should DIY (do-it-yourself) install. This is a good way to illuminate those flowers and shrubs that are positioned closer to your home. And as a trespassing deterrent it's a safety feature as well.
Moonlighting
This is tree-mounted downlighting and it's beautiful. If you want a "dappled" lighting effect on the landscaping area, the light(s) must be positioned to shine above branches to the ground below. It's also great for downlighting driveways and patios.
Because these lights are mounted 20´-30´ above the ground, this is not a DIY project. Before you buy, ask your local electrician what works best for tree-mounted light effects. You'll want low-voltage low lights that save energy and don't overheat.
Develop An Outdoor Lights Design Plan
Many homeowners haven't noticed they have only 2 lighting arenas: the front door and the back door. The rest of the yard is just…lawn.
Developing an outdoor lights plan to enhance your property is an exciting and fulfilling project. And don't forget you have two side yards. Very little illumination is needed on the sides of your house and be sure you choose outdoor lights that won't shine into your neighbors' windows.
Safe, Professional Landscape Lighting Installation in Arizona
Landscape lighting involves much more than buying a light and sticking it in the ground. To begin with, you need electrical connectivity. This Old House says any low-voltage outdoor lighting requires "stepped-down" power from your home. To achieve this, your family electrician will work with:
Bulbs – You'll choose from shades of white or colors but considerations also include the level of brightness, beam width, and energy use.
Cable – A cable is required to carry your home's electricity to the lighting arrangement(s).
Housing – The fixture's housing protects the lightbulb and shapes the light flow direction.
Stakes – You'll need a safe, unobtrusive way to mount the lights.
Transformer – The transformer takes your 120-volt current to a safer (likely 12 volts) level.
Outdoor lights are a terrific way to upgrade your home's aesthetics and increase your property value. Effective landscape lighting multiplies your curb appeal as your home becomes a neighborhood standout.
Partner with Turn It On Electric professionals for your outdoor lighting project this year. We'll have illuminating ideas for you as well as industry-best workmanship. For more information, contact TIO Electric.