When it comes to electrical usage, most of us are pushing the envelope. If the fall/winter holidays include your own personal "festival of lights," dedicated outlets may be needed this year. In fact, dedicated outlets for holiday lighting are a good idea for everyone.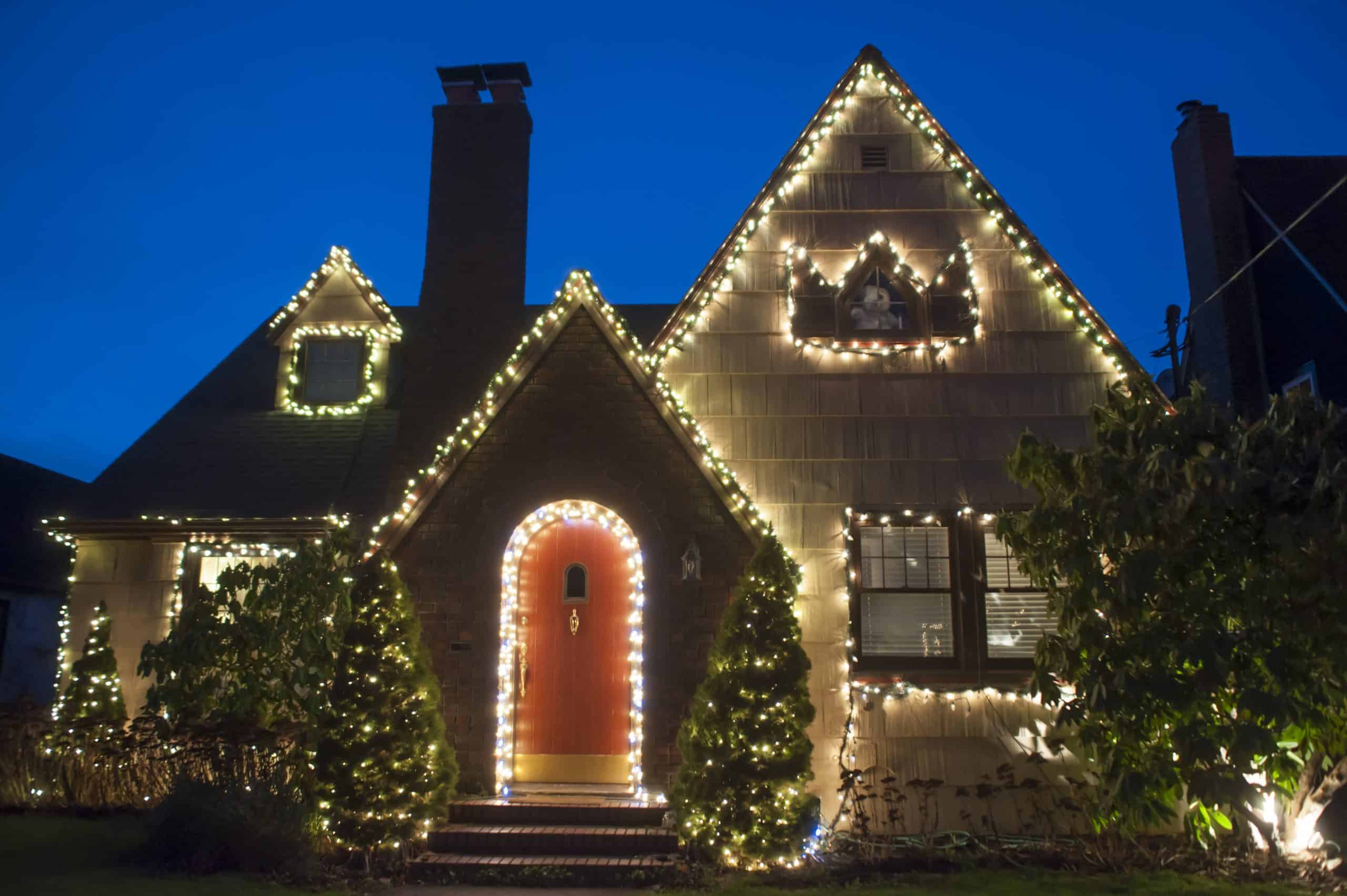 Dedicated Outlets, Circuits Provide Protection
Amps (amperes) are how we measure electrical current units. Most home receptacles can handle up to 20 amps, but you don't want to go much over 15 amps to be safe. Overheated wires and circuitry are fire risks.
If you already have an occasional short circuit, contact your local electrician before adding holiday lights to your home this year. For example, if you can't use your toaster without unplugging the microwave, you need electrical upgrades. A dedicated outlet has its own circuit breaker. And a dedicated circuit breaker only supports one outlet.
Upgrading holiday lights from incandescent to LED saves money and energy. It's possible LED lights can reduce electrical usage enough to justify buying new lights. (Don't throw those old lights away; donate them or find a recycling center.)
Outside Holiday Lights
The animatronic Santa on your roof this year?
Maybe you should let your circuits decide. –TheSpruce.com
You'll need to determine if parallel or series circuitry is best for your outdoor dedicated outlets. Parallel lighting might be best because if one bulb burns out, it only affects that one string.
Protecting your outdoor lights from weather and other dangers is another consideration. To safeguard your outdoor lights against animals that might chew on the wiring, consider steel wire-armored (SWA) cabling, which is rubber-insulated. It's waterproof and longer-lasting than PVC-reinforced cable.
Dedicated outlets can use ambient light detection. This means your lights will automatically come on at dusk; off at sunrise. Most people prefer the ability to turn outdoor lights on from inside their homes.
Adding a dedicated outlet is better than using an existing socket.
An existing socket with GFCI (ground fault current interrupter) can serve as a dedicated outlet.
Outdoor lights must have a GFCI (ground fault current interrupter).
The installation of or conversion to dedicated outlets is never a DIY (do-it-yourself) job.
Indoor Holiday Lights
Tree lights, mantle and wall illuminated decorations… These are considered temporary electrical infrastructures. But the damage they can cause from overloading your circuits could last much longer.
How many indoor lights can you plug into one wall outlet?
The strings attach together, so you can have 100 or a thousand Griswold-blinding tree lights. There's no one formula for how many tree lights you need:
Better Homes & Gardens says you need three 100-light strands for every foot of tree height.
Real Simple says you need one 100-light strand for every foot of tree height.
Turn It On Electric says you should use whatever is safe for your outlet(s) and circuitry.
Decorating a tree is so fun you must wonder why we only do it once a year! But you really don't know how much electricity you're pulling with all those light strands hooked into each other.
Tree adaptors are a dangerous idea. Any electrical surge could cause electrocution or fire.
Rather than create dedicated outlets for indoor illuminations, you may want to add dedicated circuitry for your large appliances that need it anyway. This would lower the risk of overload and provide a permanent solution to increased electrical usage.
Safe Homes for the Holidays
It's never too soon to begin planning for holiday lighting electrical safety in Phoenix. Let's assess your home's electrical setup and discuss ways to protect against overloaded circuits. Contact TIO Electric.