Our emotions and feelings of wellbeing can be shaped by holiday lighting in general. Fall and traditional year-end celebrations give many of us an excuse to use holiday decorations to add more excitement both indoors and outside.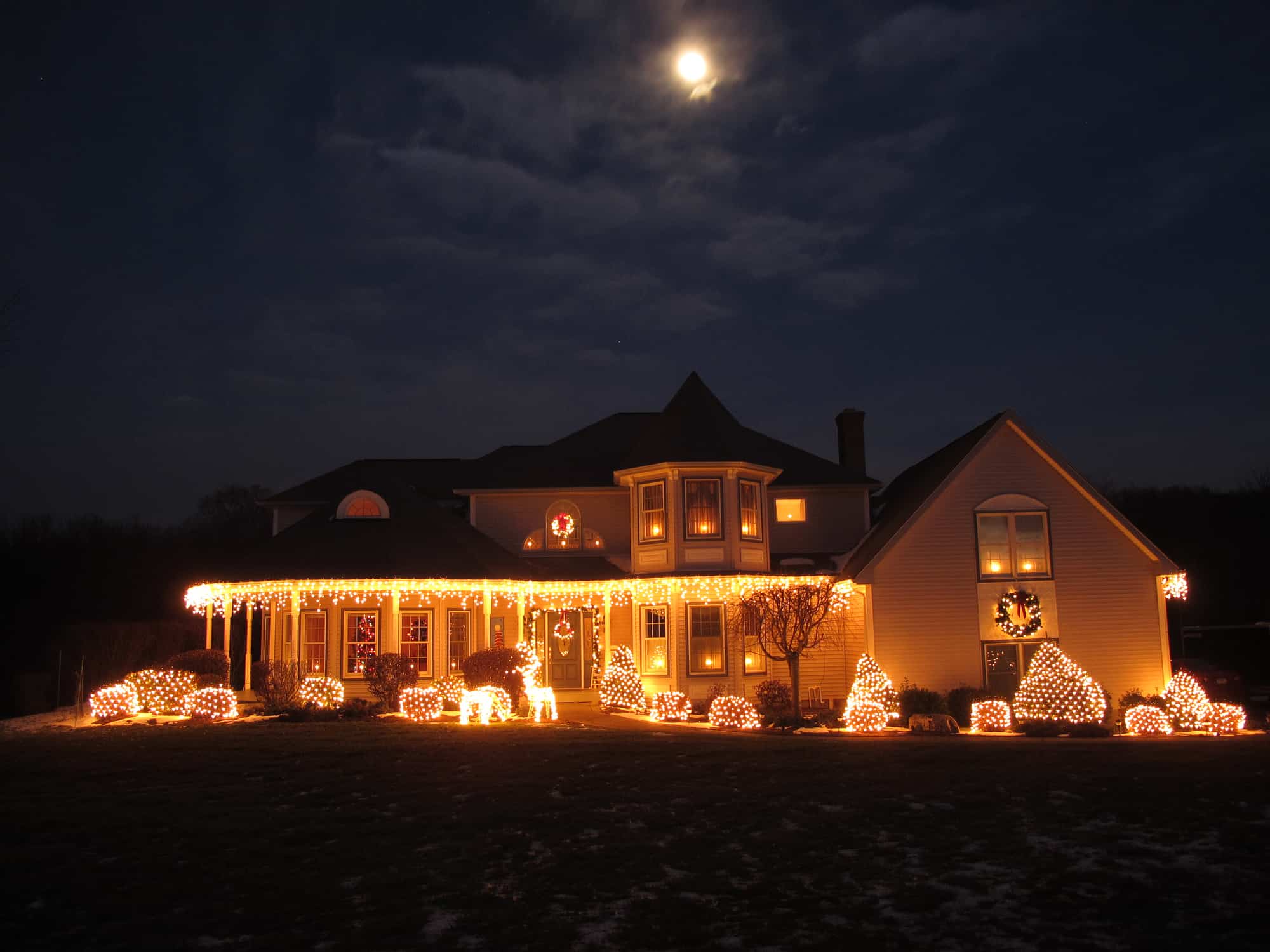 And as days grow shorter, we tend to increase holiday lighting in general. And why not? Let's light up our streets and spread some cheer!
Types of Holiday Lightbulbs
These include:
Ceramic – Classic; look as if they are painted
Globe – LEDs inside globe-shaped bulbs
Incandescent – Filament-based bulbs for a warm glow (handle carefully; they get hot)
LED – Long-lasting and emits a bright light
Net – Minilights on a webbed circuit
RGB – Programmable and can display multiple colors
Transparent – Colored with visible filaments
Outdoor Holiday Lighting in General
Every neighborhood has at least one home in which the owner puts small white lights in every bush and tree for a winter holiday. It's snowy wonderland vibe that's timeless! They're attractive, uplifting, and celebrate every day with holiday lighting in general.
Popular Mechanics defines outdoor lighting for holidays in 3 easy-to-remember styles:
1. Holiday Classic
Tasteful but celebratory, the "holiday classic" style of exterior lighting uses symmetry to put white LED lights along gutters/eaves, windows, and on large trees or shrubs. The three main types of LED white lights are:
Avoid bright-white bulbs unless you like the deer-in-the-headlights approach to décor, says PM magazine. Try warm-white lights on the house and polar-white lights on trees and shrubs. The two tones work well together and provide dimension.
2. The Delightful Monstrosity
What Clark Griswold didn't understand was the difference between "garish" and "festive." The number of lightbulbs and the color impact holiday lighting in general.
Go with "multicolored strands along the gutter. Beneath that, hang a string of icicle lights," says PM magazine. Different-size bulbs create greater visual interest. "Bigger C9 bulbs are best installed along the roofline and gutters; C7s are better for around windows and doors…Wrap your mailbox, too, if you've got easy access to electricity."
3. The Minimalist
The minimalist hangs a real pine wreath on the front door. It's illuminated by an E17 LED warm-white spotlight. And that says it all in a simple fashion.
Indoor Lighting Sets the Stage for Fall and Winter
This year's holiday lighting in general needs to convey comfort. When choosing lights for interior decorating, pay attention to the strands' lengths and how many strands can be connected to one outlet.
Talk to us about the best indoor lighting! See the options:
Color – Strands of mini-bulbs in blue, green, orange, pink, and red. If one burns out, the others stay lit.
Extra-long – Impressively long strands that can link to additional sets.
Extravaganza – These can be phone-controlled and come with flashing modes.
Novelty – Twinkle lights are just plain fun with operating modes including slow fade, twinkle, wave, and more.
White – These high-quality, top-rated strands are best for both traditionalists and minimalists.
Holidays are Happier When Safety is a Priority
As with all things electrical, professional service is the best way to protect your family, friends, and property this time of year. Before you risk overloading your circuits, please ask us what your safest options are for holiday lighting in general.
Need help with setup for all the fall and winter festivities? You're busy, so let us help. You'll have the holiday home you've dreamed of – without all the hassle. Our licensed electricians know how to make your indoor and outdoor spaces secure and bright.
Contact Turn It On Electric today for experienced, trustworthy electrical service. And give the gift of light to your friends, family, and neighborhood this holiday season!