The kids in our community are our most valuable treasures. It's fun to dedicate one evening every year to treat them. You'll tell each child he or she is the scariest (pirate, ghost, monster) you've ever seen and drop sweet eats into their bags.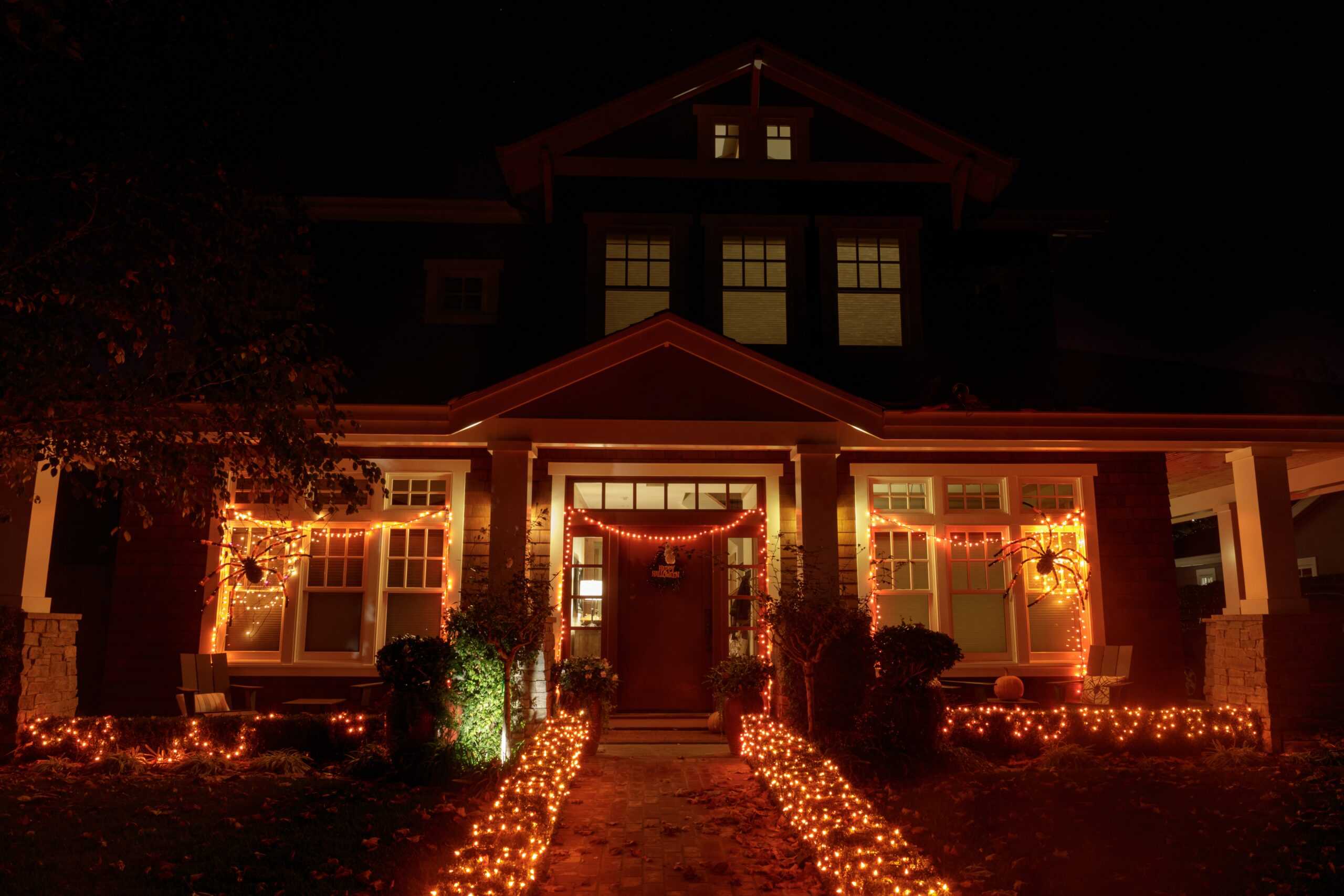 You may say, "Have fun!" or if you're a parent, "Be careful!" as they run down your sidewalk toward the street. But actions speak louder than words. Make Halloween light safety a priority for visiting trick-or-treaters this year. Here's how.
Increasing Halloween Light Safety
Sunset in your neighborhood will be around 5:37 p.m. October 31, 2022. But trick-or-treaters' vision may be costume-compromised even before dark: Facial masks, hats, sheets, wigs, and other costume accessories can slip and slide over the eyes. To increase visibility, make sure your outdoor timed lights are operating before sundown.
Here are 7 tips for increasing Halloween light safety so smaller ghosts and goblins can securely navigate to and from your door.
Avoid candles – The flickering glow of a lighted pumpkin adds to the drama of All Hallows' Eve. And those trendy paper-sack lanterns? Both are hazards waiting to happen. The risk isn't worth it. You can put LED faux candles inside pumpkins (and sacks, for that matter).
Brighten your bulbs – This is not the night to rely on a subtle glow or tasteful accent lighting. If you can safely switch your outdoor lightbulbs for higher-wattage bulbs, do so.
Child-proof your traffic areas – It's a good idea to inspect your pathways for potential dangers. A wobbly gate opening can be tightened, and you can put friction tape on front porch steps that get slick when wet. Relocate anything that could cause tripping or falls.
If you haven't yet, consider a professional landscape and/or sidewalk lighting installation. It is attractive but can also add Halloween light safety and increase property value.
Deter vandalism – Halloween is also a big night for mischief-makers and vandals. After you've shut your front door and turned off your indoor lights, be sure your outdoor motion detector lights are activated.
Ensure grounding – Your decorative light strings or fixtures must be plugged into a grounded outlet. If you aren't sure, simply ask us to quickly inspect for peace of mind.
Look for UL®-compliant labels – When it comes to Halloween light safety, sometimes you get more than you paid for: more risk. Inexpensive decorative outdoor lights may be manufactured out of country and sold online. All decorative lighting should have the Underwriters Laboratories certification. It's easy to Photoshop®, so verify the logo and information if you're unsure.
Open your storm door – If your entrance has a front door and a storm door, prop the storm door open. When you're handing out candy, the storm door can slam on small hands or impede their movements. Prop it open and secure it. Consider adding yellow lights, a spotlight, or glow-in-the-dark caution tape to ensure kids can see it and avoid it.
TIO Electric: When You Need Fast Service
The record for the fastest pumpkin carving was set in 2013 by a New York teen. He completed the requirements (eyes, nose, mouth, and ears) in 16.47 seconds.
For fast service (just not that fast), add our phone number in your contacts under "E" for "electrician."
If you have any questions, contact Turn It On Electric.