Different types of lights allow you to use and enjoy your home, office, and the places you visit. Some make it possible to use the building around the clock. Others focus your attention on a specific detail, whether it's a task or something to admire. Professionals classify types of lights into three categories that include general, task, and accent.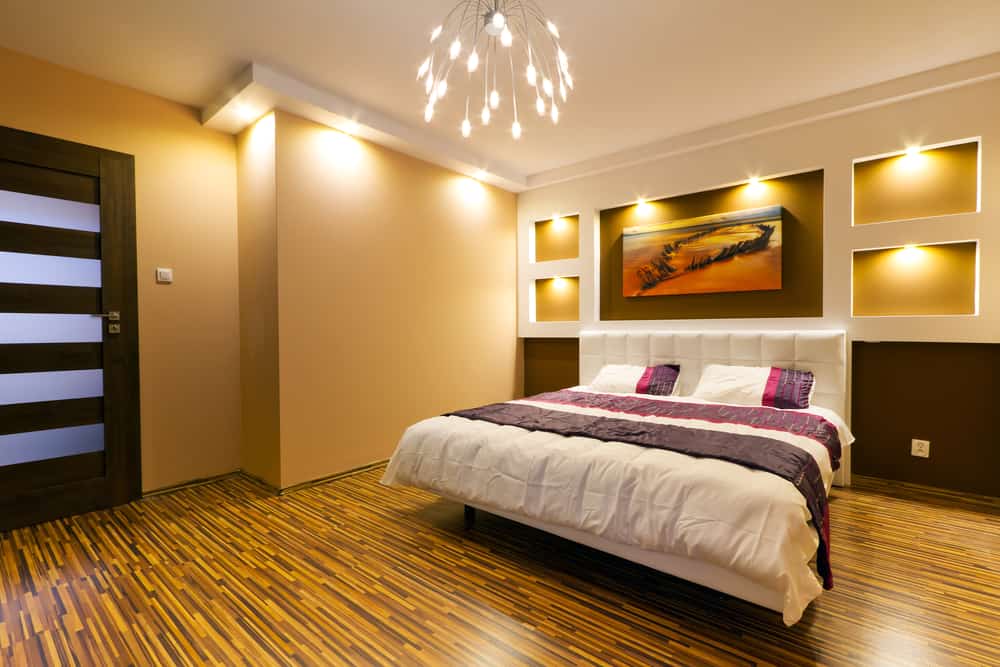 General Lighting
When you walk into a room and turn on the light switch, you are most likely turning on your general, or ambient, lighting. This type of light provides utility in lighting designs and can be found in most rooms of your house. General lighting can be ceiling-mounted or even recessed fixtures, as long as their purpose is to cast light evenly throughout the room.
You can dress up the appearance of general lighting by using recessed lighting, track lights, wall sconces, chandeliers, or pendants. Some kitchens, laundry rooms, and garages use overhead fluorescent bulbs. Although very different in aesthetic, each of these types of lights will broadcast light for the room. You can use dimmer switches with overhead lighting to give you the ability to change the look, without changing the bulb. 
Commercial buildings typically use fluorescent general lighting. Imagine your office; that bright buzzing glow provides an evenly cast light throughout the area. Restaurants often consider the atmosphere they want to create for their guests and use softer ambient lighting to set the mood.
Task Lighting
If you want to illuminate a specific area of a room, consider task lighting. This smaller light directs attention where it shines.
Task lighting under kitchen cabinets can increase functionality by illuminating the work area below, making it easier to see what you're cooking or cleaning. Another ideal place for task lighting in the kitchen is an overhead light at the sink. The professionals at Turn It On Electric can show you the best kinds of task lighting to simplify work in the kitchen.
Other examples of task lights include floor, desk, and end table lamps. A floor lamp can illuminate a hallway, without the need for bright general lighting. A desk lamp can provide extra light when reviewing paperwork. End table lamps can lower the lighting in a room, while still allowing you to comfortably read. 
Task lighting also has a place in the commercial world. These are often customized to the industry or business. Some businesses are even starting to use this type of lighting to increase productivity since it helps their employees focus on the task at hand. Designers use different types of lights that combine both form and function for retail and commercial buildings. The technicians at Turn It On Electric can help you select the best lighting for each area of your home or commercial space.
Accent Lighting
Accent lighting is less common than the first two categories. However, there is still a place for them in homes and businesses. 
Display cases or bookcases may have built-in accent lighting to highlight the contents. Accent lights also make it easier to read sheet music at the piano. Holiday lighting may even serve as a temporary accent light to highlight decorations.
You'll find accent lighting in art galleries and museums when you notice a light illuminating a piece of artwork. You may see an accent light highlighting a water feature when you pull up to a restaurant. This type of lighting draws your eye to something worth admiring.
Creating Layers
Imagine sitting in a living room with one bright overhead light. You probably wouldn't want to stay there for very long. Now imagine the same room with an overhead light, a few decorative side table lamps, and an accent light highlighting a painting on the wall. Creating layers of light in your home or commercial space will help it serve a variety of purposes.
A well-lit room will have multiple layers of lighting. Start big and consider the general lighting first. After you've determined the main lighting, then consider the details. Make a list of how you use each room and anything you want to highlight. A professional can help you determine what lighting will meet your needs.
Hire an Electrician
Lighting is complicated. For example, a recessed light could serve multiple purposes. If it shines light down from the ceiling to evenly illuminate the room, it's general lighting. However, if it's angled at a piece of artwork on the wall, it's accent lighting. Both are recessed lighting, but they serve very different purposes in lighting your home.
Trust the professionals to help with everything from installing a ceiling fan to changing the entire lighting system in your home or commercial property. Contact Turn It On Electric today to learn more about using the different types of lights to increase your comfort and productivity.