Upgrading your panel has never been easier. In fact, we take care of everything from start to finish. We contact your electric utility company, obtain your permit, schedule your inspection, and install your panel. Simply sit back and relax while we work.
Contact Turn It On Electric to get started today! Leave it to the professionals to keep your property functional and safe.
Here, we'll outline the steps required to upgrade your panel and show you how Turn It On Electric will be there every step of the way.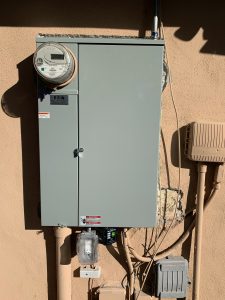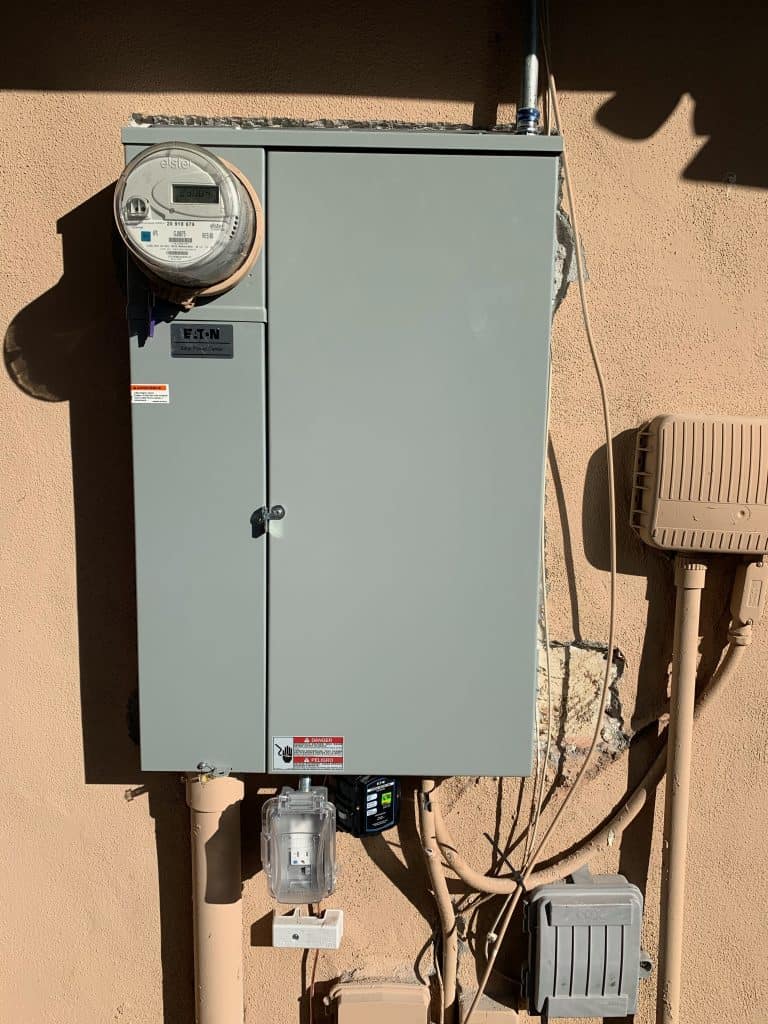 What you get with your panel upgrade…
Communication/setup with your electric utility company
Obtaining your permit
Scheduling the inspection
Future-proof, solar-ready panel installation
Whole home surge protector
20amp GFCI convenient receptacle
New, up-to-code breakers
Timeline? The actual panel replacement is usually completed in one working day, however, getting the necessary permits and cooperation from the utility can take 3-6 weeks. But we'll always keep you updated along the way.
Our affordable panel upgrade package is all-inclusive and can't be missed! Contact us, and we'll handle all of the scheduling and permits for you. Not to mention expert installation by professionals you can trust.
The Turn It On Electric Difference
Yes, we'll obtain your permit, as well as communicate and schedule with utility companies as we install your new quality, solar-ready panel. But we also include some extra services and products that make our upgrade the best around.
We're Phoenix's preferred electricians, and we take our upgrade to the next level.
You'll receive whole home surge protection. So, if your home experiences a surge or lightning strike, the inside of your home, including your appliances, fixtures, and more, are protected. You can rest easy, knowing this kind of protector can save you $5,000-$15,000 or more in repairs and damages.
And we don't stop there!
You'll also receive a 20amp GFCI receptacle right below your new panel. So, you'll have access to more convenient power.
4 quick facts about panel upgrades
Panels last about 30 years, so homes built in the '70s/'80s are certainly due for upgrades now.
Once your home turns 20 years old, you should begin to budget for a panel upgrade.
South facing panels can be the worst due to sun damage and the extra heat they take on.
High temperatures and dust are enemies of a panel's plastic components that inevitably fail in such heat and elements.
Face the facts, and let the experts take on this project for you and your family. Keep your property and loved ones safe and sound.
Be ready for Solar Energy!
Get a panel upgrade that sets you up for the future. With our panel upgrade package, you won't need to replace your panel yet again, should you want solar in a few years. We're thinking ahead with you already…
Work with licensed electricians at Turn It On Electric for a panel upgrade you can trust for years to come
If you're currently shopping around for a panel replacement quote, make sure that you're comparing apples to apples. Many of our competitors cut corners, don't quote accurately, or give you the bare minimum hoping you'll be back soon when you need more from your panel.
From permit to panel it is those extras that make us different – like surge protection and the additional, convenient receptacle – we'll take care of it all from beginning to end.
We're dedicated to your satisfaction. And our electricians are eager to put their experience and passion to good use in serving you soon!