"Color temperature" is the way we describe the appearance of the light emitted by a lightbulb. The temperature is measured in degrees (Kelvins) from 1,000-10,000. When adding interior lights to homes and commercial properties, decorators choose color temperatures to deliver ambience or purpose.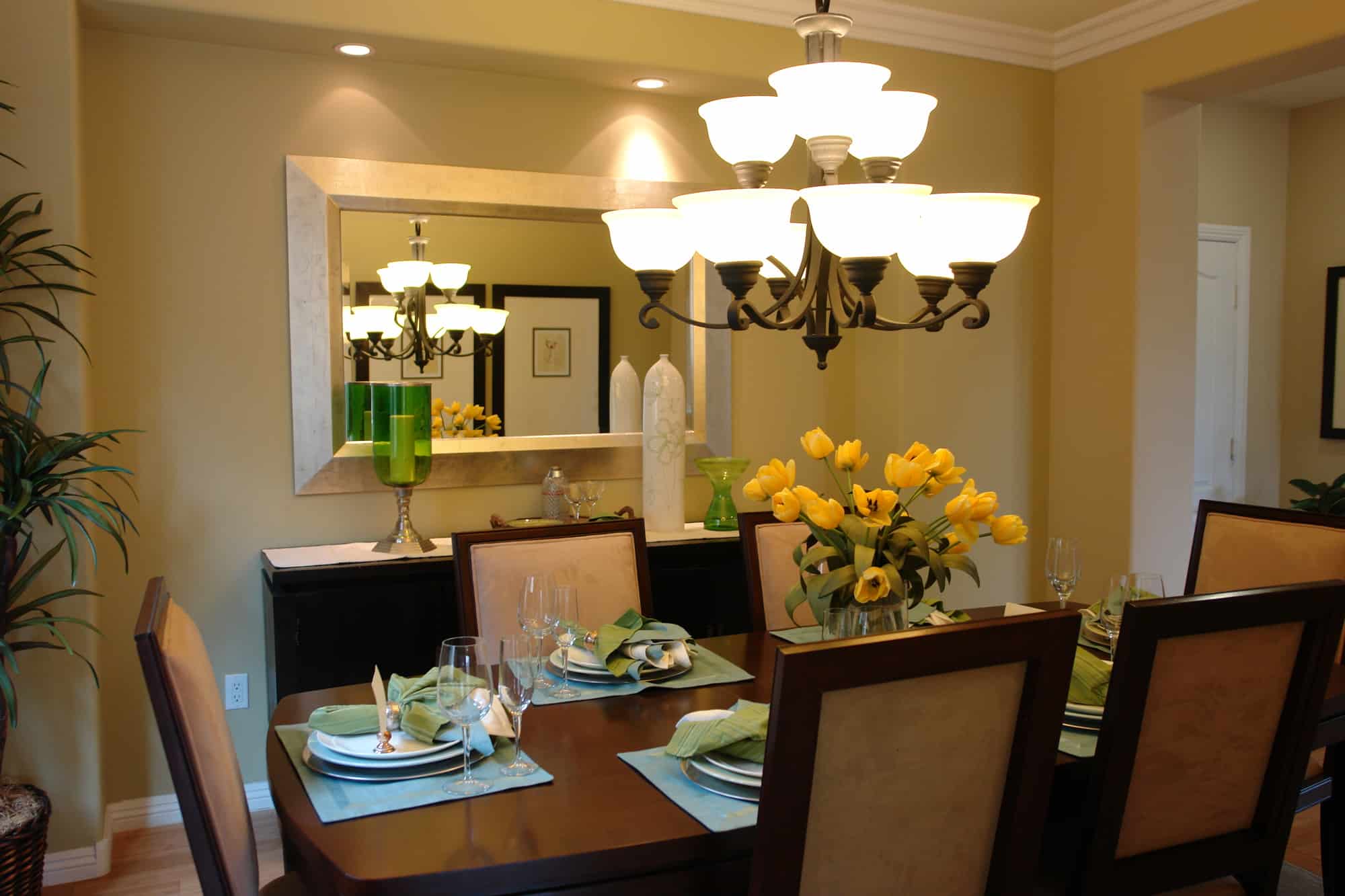 Some of the Kelvins to consider if you plan to add overhead lights include:
1,000K – Candlelight
1,800K – Vintage/Victorian
2,700K – LEDs
3,000K – Warm white
5,000K – Daylight
10,000K – Blue sky
How to Add Overhead Lights
When you want to add overhead lights to a room, consider the room's purpose and location. For example, you can enhance overhead light fixtures' illumination with natural daylight.
To add overhead lights to larger rooms you may be able to mix-and-match. You could use warm white (3,000K) for the primary lighting and smaller, cool white (4,000K) light fixtures above workspaces and task sites.
Kitchens are a good example of ways to integrate and add overhead lights effectively. Warm, welcoming overhead lighting is perfect for the heart of your home. Then add overhead lights to your task areas; the sink and the counters. (The best "overhead" lighting for kitchen counters are under-cabinet lights.)
10 Types of Overhead Lights
The type of overhead lighting you choose is as important as the type of bulbs. Together, they form a partnership to convey a mood; a "feel."
Chandelier – Adds a focal point to any room
Flush – Flat attachments mounted directly to the ceiling
Hanging – Pendant lights are trending; mini-pendants are perfect for smaller rooms and hallways
Indirect – Often LED lights; when mounted on or near crown molding offers a classic-but-modern upgrade to rooms
Inverted pendant – Ambient light source also called "bowl pendants"
Island – Similar to track and rail lighting; often hangs lower
Recessed – Mounted in the ceiling
Semi-flush – Fixtures hang 4″-8″ from the ceiling
Track and rail – Accent/task lighting mounted on a ceiling rail or suspended
Utility – Usually flush-mounted, using LED bulbs
FYI:
A flush ceiling fixture directs light down. A semi-flush fixture directs light down and up. The illuminated ceiling helps a room appear larger.
Recessed lights require a minimum of 6″ clearance above your ceiling, however, newer models of lights may need less – check with us first.
In your dining room, the chandelier bottom should be 30″ above the table. If it's hung too high, it makes the room look smaller; too low and it gets in the way.
2 Reasons Why You Need an Electrician to Add Overhead Lights
Here are two reasons why you need to hire a licensed electrician to add overhead lights – or to do any electrical wiring job – in your home or business.
1. Danger
An apartment manager hired an unlicensed electrician to upgrade washer/dryer 3-prong receptacles to 4-prong. The "electrician" replaced the receptacle without hooking up to a ground. A dangerous situation was created.
2. Death
The apartment tenant then decided to DIY (do-it-yourself) install his washer/dryer. He accidentally installed one of the "hot" wires to the ground screw. It sent 120 volts of electricity to the frame of the dryer. He then touched the water line for the washer while touching the dryer frame.
If the receptacle had been properly wired in the first place, it would have tripped the circuit breaker.
TIO Electric: Licensed, Bonded, Insured
Before you add overhead lights, let's discuss staging and wiring. We want to be sure your ceiling can support the type of lights you're considering. Turn It On Electric professionals are trained to complete every type of light installation.
When safety is important, contact TIO Electric. For us, your safety is always important.