A few decades ago, it was inconceivable to think LED lights could do so much to enhance lighting. Unlike other kinds of bulbs, LED bulbs use electricity to fire off photons that create light.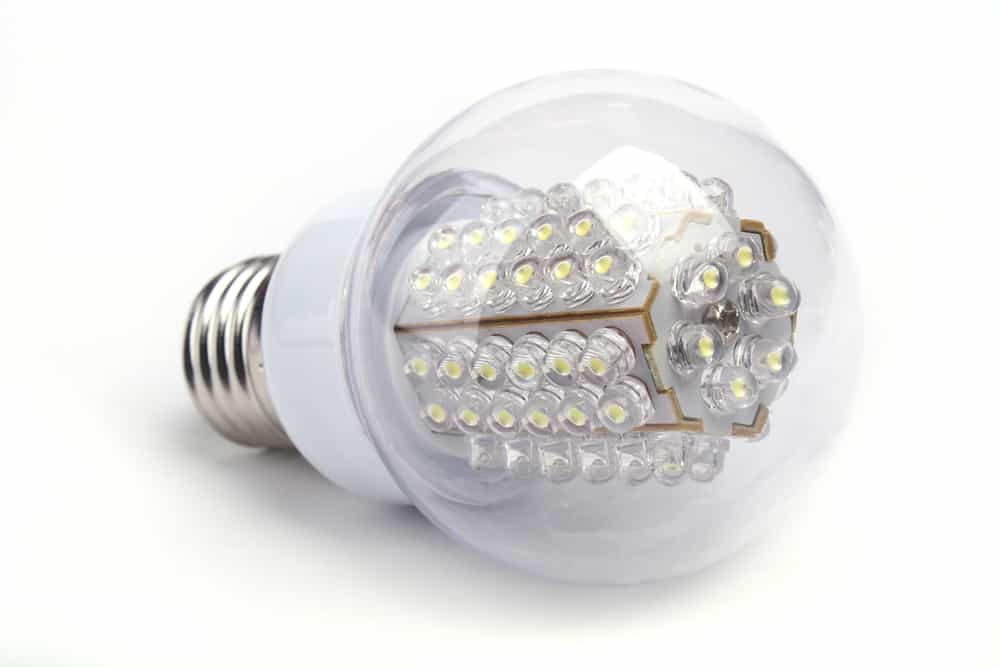 They are not heat-dependent like incandescent bulbs that need a metal filament to reach 4,132 degrees F to light up. All an LED bulb needs is a minute amount of energy that sparks the light-giving reaction.
CFL bulbs use about the same amount of energy as LED bulbs, but emanate light through a different process entirely. They use electricity to excite the molecules of gases to create the glow that emits light. In so doing, CFLs emit plenty of heat.
Energy Use
According to the U.S. Department of Energy (DOE), an LED uses 75 percent less electricity than an incandescent bulb for the same amount of light. When shopping for the bulbs, you'll find the wattage of the bulb on the packaging, along with the wattage of equivalent incandescent bulbs. A 5-watt LED bulb can produce as much light as a 35-watt incandescent bulb.
Heat Production
The DOE reports that CFL and incandescent bulbs emit 80 and 90 percent respectively of the electricity they use as heat. Considering the long, hot summers in the Phoenix area, using these bulbs instead of LED lights adds to the cooling load for many months of the year. A home that uses LED bulbs exclusively will stay cooler, which cuts your cost of cooling.
Colors and Lumens
Besides the strings of colorful holiday lights, LED lights are available in a variety of hues from red to purple and bright to subdued whites. The packaging will indicate whether they're cool, warm, or bright white. Although the packaging for LED bulbs compares their energy use to incandescent bulbs, it has nothing to do with the amount of light they produce. The most revealing comparison is to look for their lumens. Higher lumens indicate more light.
Durability
Instead of measuring the lifetimes of LED lights in hours, they're measured in decades. Even though the bulbs cost more, they start saving you money the moment you replace your old incandescent bulbs.
LEDs lights are also a good alternative to CFLs because they last longer and tolerate power interruptions better. LED lights excel in areas where you turn the lights on and off frequently, like garages, closets, and bathrooms. CFLs tend to burn out faster in these locations.
Safety
Some of the LED lights have plastic housings, which increases their safety since they won't break on impact or create shards of glass. They also don't emit enough heat to spark a fire, even around highly combustible materials.
Versatility
LED lights come in many colors, shape, and sizes as individual bulbs, lighting strips, and enclosed fixtures. They can be hardwired or run off batteries. You'll find them in flashlights and grow lights in both large and small greenhouses. The only place LED bulbs aren't suitable is inside ovens. Temperatures that exceed 212 degrees F interfere with LED technology.
Smart LED Bulbs
Smart LED lights have chips inside them that make it possible to control them remotely, as long as you have a compatible home hub or smartphone. Some will change their colors, permit geofencing, or play music. All are dimmable and operate on a schedule. The lights operate either via Wi-Fi signals or Bluetooth.
Bottom Line
Swapping out your old light bulbs with LED lights makes a lot of sense and will increase your home's energy efficiency and your enjoyment. While some bulbs are a simple do-it-yourself replacement, many larger fixtures require the work of a licensed electrician. Contact Turn It On Electric today to learn about converting your home or business to LED lighting today.